Monday, December 18, 2006
Christmas Tour of Homes, A Tad Late
I'm late, I'm late, for a very important date.
Boomama's Holiday Tour of Homes.
We're finally ready - so come on in out of the cold. Wipe your feet, please, so you don't track in snow. I'll make cocoa and you can drink it out of one of our Christmas mugs.
The lights were strung better the first go-round. Then we plugged them in, and of course they didn't work. So we took them off, bought new ones and had a blast stringing them in the pouring rain. You get less picky the harder it rains, we found. I did the shrub on the left. Lovely, huh? It'll do. An over-achiever I'm not. I'm just thankful none of you saw what my hair looked like, after being outdoors in a hoodie in the rain..... yep, very attractive, just like you're picturing it.
The faux fireplace mantle decorated, stockings are ready. The snowman quilting was done by my sister,
Barb
. Are you loving the nice smears on the mirror, and no, I probably won't be cleaning it any time soon. We'll just dim the lights.
The tree is out of the box! I didn't realize pre-lit means you can't plug in the whatever at the top, so the star got lights shoved up inside it. My motion ornaments that drove Don crazy for years don't move anymore, again due to the pre-lit thing. I had fun remembering over some of the ornaments. There is this one gaudy pink one, from Miss Virginia Marmaduke, who used to come to her door naked when the kids would go visit, and she made beer bread that smelled to high heaven. Our kids made some, and they're tacky but dear to us. A Steeler one the first year Jeremy was dating Leslie. Of course I threw icicles all over the place when I was done. It just glows when it's dark and the lights are on. The packages underneath - I was in a blue mood this year... The red tissue paper ones are from my mom, always my favorite to open.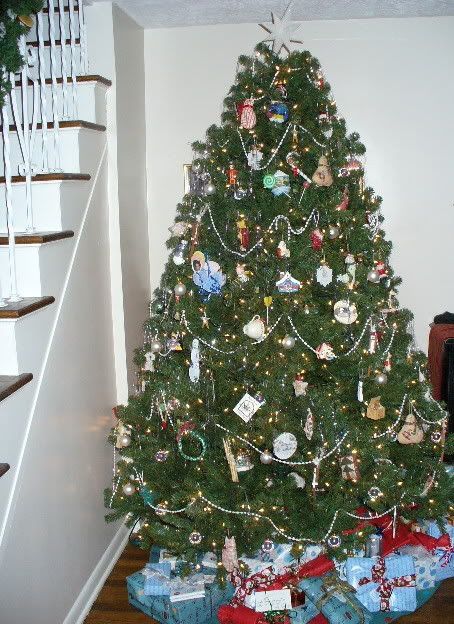 We also have a charming snowman collection, and it had lights. Once all the snowmen were in place, the lights decided not to light anymore. I love it when that happens, don't you? How much would you pay for lights that worked very single year? My bid was $100 a string. Seriously. Nestled amongst the snowmen are photos of our kids, playing in the snow. Kids and dogs.
Then there's the snow village. I put the Baptist church and the Presbyterian one as far apart as possible. Don't want to cause a ruckus between the "sprinklers" and the "dunkers". Little trees with blue lights. Generally I think blue lights should be confined to Kmart, but I like them on these little trees. Bags of that sprinkle snow all over the place. As Christmas gets closer, I love seeing kitty paw prints in the snow. Miah visits the village now and then. Possibly looking for good sales in Aisle 3?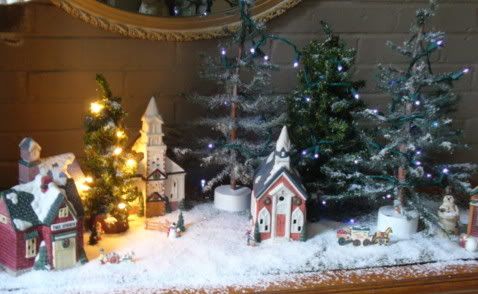 The dining room has garland wound around the light fixture, and there are gorgeous little embroidered ornaments of The Night Before Christmas. The stitchery is so tiny, it's amazing. Again, of course, stitched by my
sister
. If she didn't win that homemaker blog award....(a Martha Stewart clone if there ever was one)? Here's a closeup of one of the ornaments. Not that I would have ever made them, but if I had, I'd be using a white cane afterwards. The girl loves detail.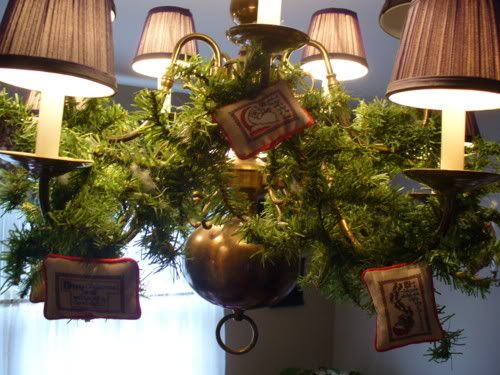 Our only nativity scene was made by
Leslie
when she and Jeremy were first married, and cash shy. They're made of clay pots, oh so tiny, and I love it. I gave the bigger, fancier sets to both my daughters. This one makes me smile every year when I set it out. It's next to the pillow I leave out for Santa to cover my bases.
Then there are the snow stitcheries. The one with the blue frame is - yes, again - by my sister, Barb. The black framed one is by my daughter,
Sarah
, and was made after she had at least one child. I have no idea how she found the time. I treasure them both. Since we live in the Arctic I get to leave the snow stuff up til mid-March. I also don't generally give credit when people come over and admire them. If they don't know me well enough to know I'd never have made either, I leave them in the dark.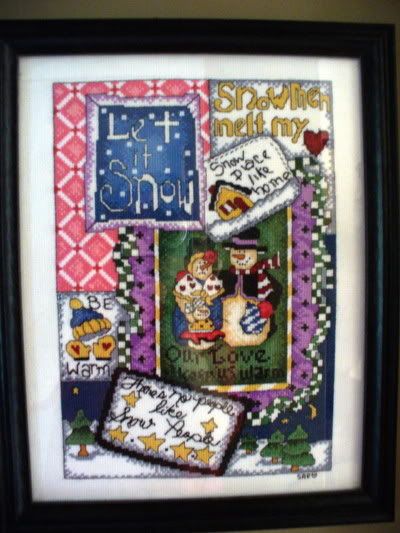 Last, there's the Santa collection. I don't collect many things, except at Christmas. I used to have more, but I have a tendency to get rid of stuff - Santas, pets, etc.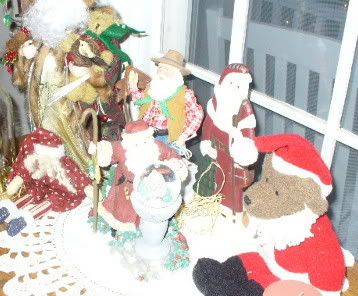 Having the house full to overflowing with decorations, it just makes it feel more serene when you pack it all away at the end of winter. It also hides a lot of the pet hair flying all over the place, when our company is here. We try to overdo in most rooms to be consistent. So the house is pretty much decorated now; there's little left to do but whip up some biscotti for the neighbors, stop by the ATM, and fill the car with gas. Then we're off to the airport to pick up kids, and back home to fill this house up to the brim - with noise, food and people. Bake cookies ad nauseum, play Bing Crosby and watch old Christmas movies. I can't wait. Now that I'm ready. The only thing that could make it any better would be if Sarah and Chris and their munchkins were here with us. I'd love nothing better than to watch Elf with Caiden, once or ten times.
Thanks for stopping by and checking out Christmas at our place. Be sure to visit
Boomama's place
, to find out who's door is open, waiting for you. Hope your Christmas is wonderful too. xoxoxo
Labels: Busy Buzz
posted at
9:00 AM

Thursday, December 14, 2006
Reverence for all of Life's Blessings
As you can see,
Susie at Bluebird Blogs
finished my new template. I tend to need a change now and then, but there was purpose behind this one. My old template had two rocking chairs, next to the lake. It was the perfect spot to retire - someday.
It's easy to live, looking ahead to someday. The next step, place, goal in life. We're a few years out from retirement, and as we get closer, it gets harder to wait it out. Several examples/stories come to mind, but they all say the same thing: I can't hold tightly to one thing and open my hand for the other. By looking ahead to the next step or stage in life, I'm missing out on much of what this one has to offer.
I remember when we took down the swingset in the back yard. I cried. The same thing with the sandbox where Dan and his dog had dug and built with his old metal cars. I knew the time for them has passed; I couldn't get it back, and I wished I'd absorbed more of it. I remember moving out of houses where we'd brought babies home, hating to leave them.
Life has many of those moments - moving out of your apartment into the first house. Taking down the baby crib after many years of it being filled. Having the kids head off to college, and you generally have gas in your car and groceries in your fridge, but they are gone. Even carving pumpkins and dyeing Easter eggs - they are events that only happen during a small window of time; before you know it, you're buying those fake pumpkins at Michaels and hoping the candy you give out will make up for the fact that there are no real pumpkins with candles lit, fewer decorations.
This year, life for our family could be summed up as nuts - crazy - out of control busy. Blessings, trials, times when we were so stretched in every way imaginable. We survived it all, but I was generally looking ahead to when the current crises was under control, to move on to the next thing on my list. Life isn't always tidy. It doesn't always fit on a to-do list. I don't really want it to. But there has to be something in between.
I don't want to miss the moments, right now. When the phone rings, I want to be able to stop and fully engage in that conversation. When my husband comes home at night, I want to be sure he knows it makes my day that he walks through the door. I want my friends to know I care about them, about what's going on in their lives. I want to not tell my kids, "I'm sorry, I only have ten minutes...", again.
We had our annual Christmas luncheon at church this past week. I was seated next to a dear woman who moved here from Turkey many years ago. The years have not removed her heavy accent, and her sentence structure is still a little crazy. It makes you listen more closely when she speaks. I sat beside her, while we sang Christmas carols, just soaking in hearing familiar songs, sounding very different. Listening to the entire room of over 200 women sing, I thought of how busy they all likely were; the stress of knowing they all had so much to do this time of year.
Reverence - it means "a feeling or attitude of deep respect, love and awe, as for something sacred." I AM Blessed Beyond Measure. I just need to make a cup of tea, curl up on that window seat, grab the book I'm currently reading, and have a reverence for my life - here and now. Maybe I need to ask those around me to speak in accents, so I slow down and listen a bit more closely.
Thank you,
Susie,
for capturing perfectly what was on my heart - a reverence for life. Right now.
posted at
12:15 PM

Thursday, December 07, 2006
Memories of Christmas Past
MomRn
is hosting a posting party; memories of our favorite Christmas. I can't say I really have one Christmas that stands out as THE one. Instead, I'll share the parts of Christmases over the past 40 or so years that I treasure.
When I was a little girl, the time leading up to Christmas was the best part. My 5 brothers and sisters and I would make paper chains of red and green, using our school paste. We'd string popcorn and wrap it around our scrawny tree. We'd hang my dad's socks somewhere, in hopes of an orange and some candy on Christmas morning. Christmas morning was a blur - 6 young kids, 2 parents with very little sleep. Packages wrapped in tissue and squiggle ribbon. Pjs and bed-head hair. I remember my father sitting in his chair, watching us all. He'd have his post office uniform on, ready to head out the door to deliver "specials" after we'd finished opening our gifts. I didn't realize other fathers didn't work on Christmas day. I remember nothing of the food. I was a kid - kids don't really care about the food. Seeing one of my siblings exclaim over something they'd dreamed of was such great fun.
When I was a young woman, I remember decorating my first apartment, alone. Putting the tiny artificial tree in the corner, and the sense of loneliness. My parents had recently divorced, I was between dating relationships, and I felt very small. We all need to feel a little lonely now and then. It clears things that might be muddied in our minds. I think those times alone, now and then, remind us we need each other.
When I was a young mother, my only child was 10 months old. We had little money, and she was really too young to appreciate gifts. I expect she would have preferred the boxes and ribbons at her age. We bought her a little rocking chair and a baby doll with a bottle. The bottle had fake milk in it, and would disappear as you tilted it. Upon opening the package, she promptly stuck the bottle in her mouth and was puzzled when nothing happened. I can still clearly see her sitting in that little rocking chair under the tree, doll discarded, bottle in her mouth.
When I was expecting our last child, 8 months pregnant and attempting to maneuver my swollen body through store aisles, I think I lost my love for crazy shopping. My unborn baby and I both got pushed and shoved, as people tried to grab this and that. That year, carrying that baby, I was very struck with how Mary must have felt, in a town that was so crowded there was no room for them. I expect she and unborn Jesus got shoved a bit too.
When our children were all here and a bit older, I remember year after year of not enough sleep; too much to do; long lists for Santa. Making popcorn balls, baking cookies with the kids, Christmas movies on TV, it all lumps together into one precious memory of a busy, busy time in our lives.
Now our children all have their own homes, two of the three have their own little ones. They are at the stage of not enough sleep, too much to do, long lists for Santa and trying to stretch budgets. My list of people to shop for has gotten shorter over the years, and I realize those still on it are to be treasured. Buying a fruit tray and slippers for my 94 year old MIL is a privilege. Wrapping her gifts with care, knowing she will feel loved on Christmas morning as she opens them - someday I will treasure the memories we're making today.
This Christmas we'll make memories that we'll look back at, just a few years down the road. We likely won't remember the gifts, the food won't matter at all. A memory of seeing someone I love dearly, standing next to me holding that little candle and singing Silent Night, that I'll treasure this year, and in those to come.
posted at
2:57 PM

Saturday, December 02, 2006
Knowing and Believing
I KNOW my grandbaby, no matter how beautiful he may be to me, should not be lightly compared to baby Jesus. Landon's here for a 24 hour visit, the first of what we hope will be many. We've had moments, some a bit stressful, some chuckle-out-loud fun, and some precious to my heart. I'll come back later to tell you about the chuckle-out-loud, but since I am going to tell you about a "baby Jesus" experience I had, I'll save those for a more appropriate post. The post where he and I talked about which sports he'd play, which mostly discouraged ever wearing one of those funky wrestling uniforms.
Last night, as I held him close and gave him a bottle, he slurped, burped, while he was sort of awake, sort of dozing. In the shadows of the nightlight, I gazed on his sweet, sweet face. Soft puckery lips, furrowed brow, fuzzy baby hair. Eyelashes so pale they are barely visible to my post-50 year old eyes. We repeated the scene this morning before the sun was completely up. I was struck by how helpless he is, completely trusting. Not a thought for one minute from now. He's sometimes frightened by sudden movements or noises, but easily assured all is well. He gets lonely, sometimes wants to "talk", and is fascinated to watch my face close to his talking baby nonsense.
In the late, then early light feedings, my thoughts turn to Mary. There has never been ANYONE else who
knew
for SURE
, was completely certain with
no
doubt, that this child was the son of God. Even Joseph, his earthly father, had to
choose
to believe. Mary
knew.
Gazing on Jesus' face,
knowing,
in the early morning hours as she held him closely, what she must have thought? God's son, and yet her sweet baby boy. Wondering if God literally knit him in her womb, what purpose must he have for him? Surely not just a normal boy. Yet he was her son. Fully God. Fully man. Fully God-breathed infant, fully her tiny baby.
I imagine she played her version of patty-cake with Jesus, soaked in the smell of his sweet skin after a bath. Arranged his curls, gazed into his eyes and looked to the future when he was a man. I believe she probably blew raspberries on his baby belly, counted his toes, marveled at the smallness of his fingers as they wrapped around her one held out to him. Watched his tiny chest rise and fall as he slept, lips pursed, funny baby faces he made while sleeping. Fully God-breathed infant, fully her tiny baby.
Luke 2:18 tells us of visits from shepherds, and "all who heard it wondered at the things which were told them by the shepherds.
But Mary treasured all these things, pondering them in her heart."
Mary didn't know all that was in store for her infant, but she knew he was truly the Son of God. She knew.
As I sat in my living room chair early yesterday, it occured to me it was December 1, the beginning of the month we set aside to celebrate The Gift. I decided to make a concentrated effort to recognize the gifts of my life. Big and small, trivial and life-sustaining. Yesterday, December 1, I thanked God for the gift of his Son, who died for me, for us.
This morning, in the pale-before-morning hours, as I held this precious baby boy in my arms, I thanked him that while Jesus was fully God, he was also someone's baby boy. Just a baby to be held close, a little one with a head begging to be kissed, cheeks to be stroked as she soaked in the softness. I believe. Mary knew. No wonder she pondered those things in her heart. I want to behold the Savior. I don't want to miss the fact that he started as a fragile infant, held by a mother who
knew.
posted at
11:04 AM