Monday, December 18, 2006
Christmas Tour of Homes, A Tad Late
I'm late, I'm late, for a very important date.
Boomama's Holiday Tour of Homes.
We're finally ready - so come on in out of the cold. Wipe your feet, please, so you don't track in snow. I'll make cocoa and you can drink it out of one of our Christmas mugs.
The lights were strung better the first go-round. Then we plugged them in, and of course they didn't work. So we took them off, bought new ones and had a blast stringing them in the pouring rain. You get less picky the harder it rains, we found. I did the shrub on the left. Lovely, huh? It'll do. An over-achiever I'm not. I'm just thankful none of you saw what my hair looked like, after being outdoors in a hoodie in the rain..... yep, very attractive, just like you're picturing it.
The faux fireplace mantle decorated, stockings are ready. The snowman quilting was done by my sister,
Barb
. Are you loving the nice smears on the mirror, and no, I probably won't be cleaning it any time soon. We'll just dim the lights.
The tree is out of the box! I didn't realize pre-lit means you can't plug in the whatever at the top, so the star got lights shoved up inside it. My motion ornaments that drove Don crazy for years don't move anymore, again due to the pre-lit thing. I had fun remembering over some of the ornaments. There is this one gaudy pink one, from Miss Virginia Marmaduke, who used to come to her door naked when the kids would go visit, and she made beer bread that smelled to high heaven. Our kids made some, and they're tacky but dear to us. A Steeler one the first year Jeremy was dating Leslie. Of course I threw icicles all over the place when I was done. It just glows when it's dark and the lights are on. The packages underneath - I was in a blue mood this year... The red tissue paper ones are from my mom, always my favorite to open.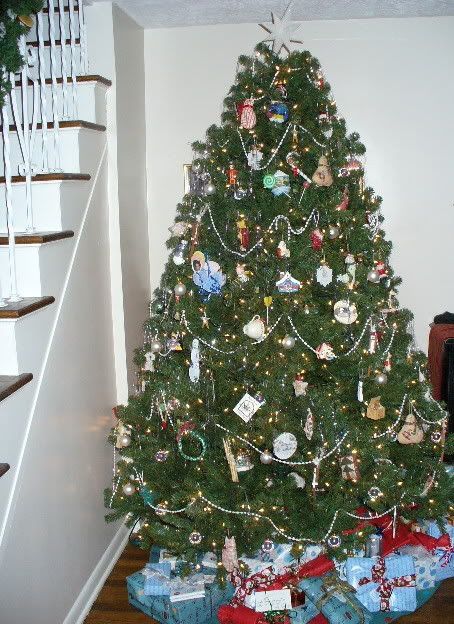 We also have a charming snowman collection, and it had lights. Once all the snowmen were in place, the lights decided not to light anymore. I love it when that happens, don't you? How much would you pay for lights that worked very single year? My bid was $100 a string. Seriously. Nestled amongst the snowmen are photos of our kids, playing in the snow. Kids and dogs.
Then there's the snow village. I put the Baptist church and the Presbyterian one as far apart as possible. Don't want to cause a ruckus between the "sprinklers" and the "dunkers". Little trees with blue lights. Generally I think blue lights should be confined to Kmart, but I like them on these little trees. Bags of that sprinkle snow all over the place. As Christmas gets closer, I love seeing kitty paw prints in the snow. Miah visits the village now and then. Possibly looking for good sales in Aisle 3?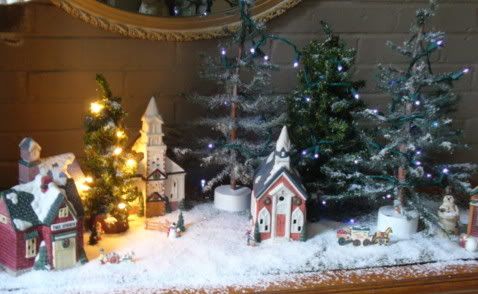 The dining room has garland wound around the light fixture, and there are gorgeous little embroidered ornaments of The Night Before Christmas. The stitchery is so tiny, it's amazing. Again, of course, stitched by my
sister
. If she didn't win that homemaker blog award....(a Martha Stewart clone if there ever was one)? Here's a closeup of one of the ornaments. Not that I would have ever made them, but if I had, I'd be using a white cane afterwards. The girl loves detail.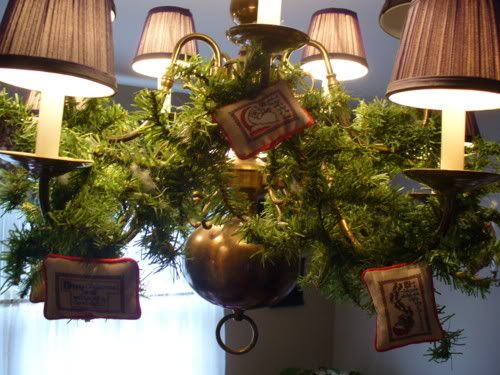 Our only nativity scene was made by
Leslie
when she and Jeremy were first married, and cash shy. They're made of clay pots, oh so tiny, and I love it. I gave the bigger, fancier sets to both my daughters. This one makes me smile every year when I set it out. It's next to the pillow I leave out for Santa to cover my bases.
Then there are the snow stitcheries. The one with the blue frame is - yes, again - by my sister, Barb. The black framed one is by my daughter,
Sarah
, and was made after she had at least one child. I have no idea how she found the time. I treasure them both. Since we live in the Arctic I get to leave the snow stuff up til mid-March. I also don't generally give credit when people come over and admire them. If they don't know me well enough to know I'd never have made either, I leave them in the dark.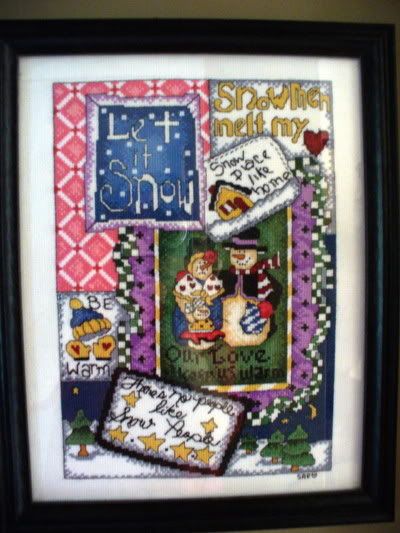 Last, there's the Santa collection. I don't collect many things, except at Christmas. I used to have more, but I have a tendency to get rid of stuff - Santas, pets, etc.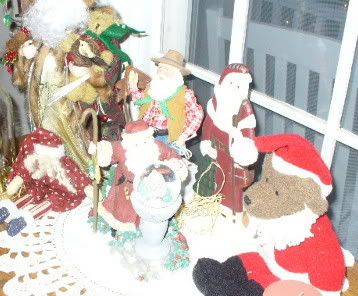 Having the house full to overflowing with decorations, it just makes it feel more serene when you pack it all away at the end of winter. It also hides a lot of the pet hair flying all over the place, when our company is here. We try to overdo in most rooms to be consistent. So the house is pretty much decorated now; there's little left to do but whip up some biscotti for the neighbors, stop by the ATM, and fill the car with gas. Then we're off to the airport to pick up kids, and back home to fill this house up to the brim - with noise, food and people. Bake cookies ad nauseum, play Bing Crosby and watch old Christmas movies. I can't wait. Now that I'm ready. The only thing that could make it any better would be if Sarah and Chris and their munchkins were here with us. I'd love nothing better than to watch Elf with Caiden, once or ten times.
Thanks for stopping by and checking out Christmas at our place. Be sure to visit
Boomama's place
, to find out who's door is open, waiting for you. Hope your Christmas is wonderful too. xoxoxo
Labels: Busy Buzz
posted at
9:00 AM