Wednesday, July 25, 2007
Fruit of the Spirit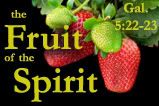 Trish, at Ordinary Life Artist, let me know some sweet someone out there nominated me for this award. I'm truly honored by this. To read more about this award you can click here.
After she emailed me, as I was driving to the grocery store, I found myself reciting the list from Galatians 5:22: "The fruit of the Spirit is love, joy, peace, patience, kindness, goodness, faithfulness, gentleness and self-control." I wondered which ones I consistently fail to exhibit. On a good day I don't feel like I show a smattering of most of them, so it's encouraging to know someone else now and then sees glimpses of Him in me. Hebrews 10:24 came to mind: "And let us consider how we may spur one another on toward love and good deeds." I felt "spurred"!

Blogging has many positives that come with it, but for me the bottom line is, just like the rest of my life - am I honoring Him through it? Thank you, whoever you are, for listening, and telling me somehow in my completely ordinary, albeit sometimes-out-of-control life, you saw Him, and not just a crazy lady. xoxoox
If you'd like to nominate someone for this award, here are the rules, listed on Trish's blog:
The "rules" are simple. When selected to receive this graphic, the blog owner (writer) will be notified, most likely by email. If that blogger would like to participate, they should respond to the email indicating their desire to display The Fruit of the Spirit graphic on their blog. The graphic's HTML will be sent to them ~ it should be as easy as copying the HTML from the email I send and pasting it into the blog owner's sidebar.

Once the blogger has posted the graphic in their sidebar, a link to their blog will be posted in the Fruit of the Spirit Blogs list in my sidebar. Every Friday I will post about the blogs that have been nominated and accepted the display of The Fruit of the Spirit graphic that week ("Fruitful Fridays" posts) (Hebrews 10:24; 1Thess 5:5-11).
Me? I'm thinking about who out there has Gentleness showing consistently - I can be patient as the day is long, but Gentleness? That's not likely to make it on my headstone!
Labels: Girl Talk
posted at
5:05 PM