Tuesday, July 29, 2008
What's On Your Nightstand?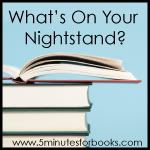 My husband has often teased me, that I need a library cart, rather than the standard issue nightstand next to my bedside. I'd have to agree as it's usually pouring over with a STACK of books. Never just one. There's usually the non-fiction, serious, get your act together book, then something a bit more light for late-night reading, and a devotional or two, the latest issue of one of several magazines, whatever Bible study lesson I'm currently behind on (is that an oxymoron or what?), and sometimes even a cookbook or two. Does any truly serious reader really only have ONE book next to her pillow?
Last night (at 12:22 am actually) I finished Debbie Macomber's "Twenty Wishes", and I'm about to start "Satisfy My Thirsty Soul", by Linda Dillow. My daughter, Sarah gave it to me for either my birthday or Mother's Day, and it's beginning to get dusty as it sits there patiently waiting for me to grab it. I just turned these back into the library: Water for Elephants, Glass Castle, Comfort Food, Every Mother is a Daughter, and Mistaken Identity, after making note of all the titles in my 'books to read' notebook. I'm always sad to turn unread books back into the library, but being realistic I can't read that many in three weeks, and they're all good choices for curling up with this fall, while the sounds of football create a sort of white noise in our family room.
Here's what my nightstand really looks like. One glass of ice water next to antique lamp from my MIL's home, photo of DH from when we were dating, one clock, one old fashioned phone with a cord!, and books, books and more books. Bottom of the pile - "How Not to Look Old", recently reviewed at Five Minutes for Books, and I'm really enjoying reading through it. (First tip was switch from brown lipstick to pink.) Truly too many books, too little time. Messy nightstand - happy life!
To see what's on everyone else's nightstand, run over to
Five Minutes For Books
, where you'll get a glimpse of this new monthly feature. Better yet, join us in sharing what's on your nightstand. And if it's one neat little book, feel free to keep that tidbit to yourself. I can't even take a chance of my husband getting wind of that information.
Labels: 5 Minutes for Books
posted at
8:00 AM